28 Mar 2023
ELX Forum Headline Agenda Released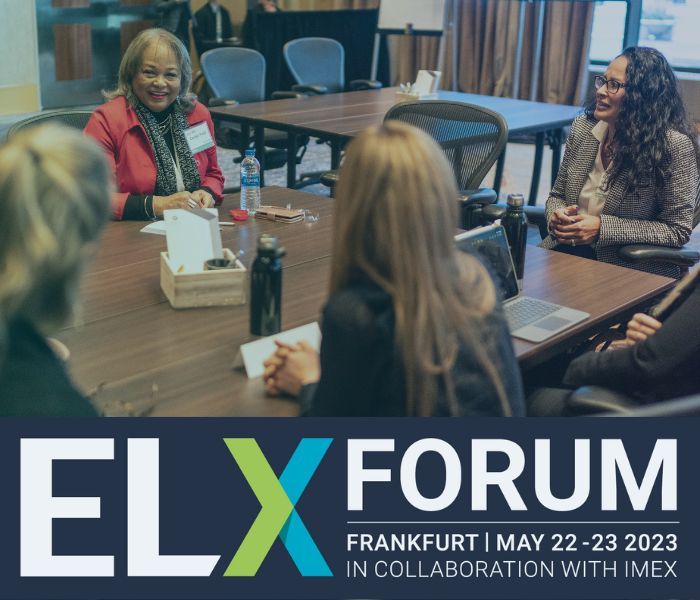 think.ahead is the central message coming from members curating the agenda for the next in-person event ELX Forum taking place in Frankfurt, May 22-23, 2023.
think.ahead which for global event heads, means to be at least one step ahead, to create innovative ideas, to be alert to the need to pivot whilst walking forward with vision and clear goals – a common goal amongst ELX members.
As with all ELX events, the programme is developed by ELX members, with the Frankfurt programme championed by Georg Huber, head of events for Allianz. At think.ahead members will share best practices, discuss key issues and initiatives from our own programs, and contribute to industry wide efforts which will drive change. All sessions are held under Chatham House rule creating a safe space for open and honest knowledge sharing.
Held at the Scandic Hotels in Frankfurt, the ELX Forum kicks off the day ahead of IMEX Frankfurt, one of the world's leading exhibitions for the meetings, events, and incentive travel industry.
Sessions on day one will be hosted by idea-generators designed to challenge your thinking and inspire new ways of managing teams and the event programs we deliver.
Key sessions include:
Valuegraphics: The shared human values of corporate event attendees and how to operationalize them
How ROE drives ROI: an introduction to Return on Emotion
JAZZTHINKING is aimed at event executives and their teams who are fundamentally open to pushing boundaries to discover new ways of working and take unusual paths.
On the evening of day one, attendees will be taken on an evening experience, hosted by LVCVA, focused on bringing senior leaders together and building connections and relationships with your peers.
On the second day, we return to focus on group collaboration for success. Member driven and Member led issues are brought to the table to share best practices, and generate solutions to some of the most pressing of issues.
Topics are set to include sustainability, event metrics, EMEA hotel environment and attendee engagement – long-standing issues that continue to bring daily issues.
---
Join us at ELX Forum in Frankfurt
Register for ELX Forum through IMEX Frankfurt Events. Please use the two codes below based on your location.
For Europe-based ELX members, please use the code JQ15GE
For US-based ELX members, please use the code QQ36HY
* Attendance is open to all corporate event leaders who are eligible for ELX membership. Registration is required and will be vetted.