11 Sep 2023
Agenda Revealed - ELX Forum, Las Vegas: A Deep Dive into Event Innovation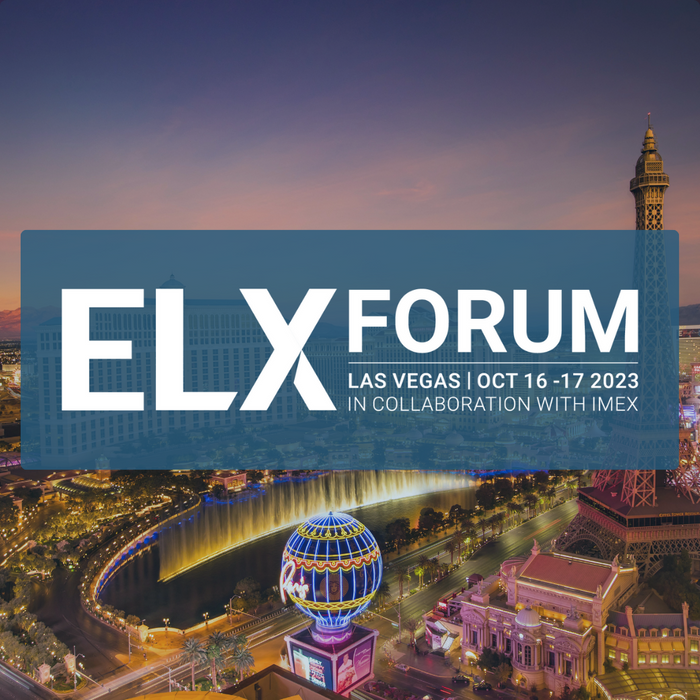 With now only a month to go until our next ELX Forum, we're pleased to share with you details regarding the day's agenda.
Curated in partnership with chair Megan Henshall, ELX have crafted a comprehensive day of dynamic and thought-provoking sessions that promises attendees unparalleled value. Prepare to be inspired by specialist speakers, including Susan Magsamen, David Allison and Miguel Neves – and, of course by your fellow ELX members who are already tackling your challenges within their own businesses.
The confirmed agenda for this event includes the following:
ELX Hot Topics: Deep Dive
As a result of our ELX insights survey this year, the following topics have been chosen from our members:
Creating Closer Alignment Between the Events Function and the Wider Business & Trust
Using Measurement to Drive Event Strategy
From this session, members will walk away with both expert guidance and co-created practical ideas for how to tackle a discussed issue, or explore new possibilities.
The Science & Impact of Multisensory Aesthetic Experiences
Susan Magsamen and Ivy Ross released their book Your Brain on Art in March 2023.
This book tells the data-driven and science-backed story of the benefits and power of integrated art and aesthetic experiences into our daily lives.
Susan will share key-insights and case studies from their NYT best seller, and invite the ELX community to know what they've discovered in their decade of work in design and promoting human flourishing.
Jacob Marshell and Bradley Green will join the session, with their decades of experience delivering a variety of multisensory aesthetic experiences. They've collected friends around the world and (3) grammys with their work, and have now turned their focus on using these experiences to heal and promote wellbeing and resilience.
They will share their experiences performing and activating the results and case studies and invite the ELX community to preview a live experience that will take place adjacent to the IMEX trade show floor.
Following his Think Tank with ELX members earlier this month, David Allison joins ELX to help members receive valuable and practical information from the custom research on core human values, that will help ELX members specifically create meaning, impact and more engaging events.
It is recommended that members watch the recording of David's previous ELX meeting before the ELX Forum, here.

With the release of the agenda, is also the final call to apply to join us at what is shaping up to be fantastic Forum.
Your chance to register as an IMEX Hosted Buyer for this event meets its deadline on September 15, 2023.
Don't miss this opportunity to be part of the conversation, share your expertise, and gain fresh insights into the world of event planning and innovation.
For more details and registration information, members may use the following link:
https://elxcommunity.com/elx/modules/173820/html
Non-members interested in participating, that want to learn more about joining the community, should email a.braconnier@eventleaders.com for further information.
We look forward to seeing you there!